Last spring, when my husband joined me for work from home, we decided to get a paper subscription to The Wall Street Journal. Working in the brokerage industry, he likes financial news, while I enjoy its unique human-interest stories, along with its technology and workforce-related articles.
You may be raising an eyebrow – paper in this digital-first age? In all transparency, we decided to get the paper and digital versions so we could have our cheesecake and eat it too.
It's been about nine months since we started our subscription, and while my husband prefers the digital version, I'm surprised by how much I enjoy the tactile nature of an actual newspaper, which I've haven't had in years.
Overall, it's a good investment and it provides daily value.
Importance of daily content
That brings me to this question: What daily content value do you provide to your members, customers or readers?
When I work with organizations to share membership content ideas, we aim for this key goal: Break down your content into bite-sized pieces to deliver day-to-day value. Many organizations offer monthly or even weekly content. But when you provide daily value, you are showing up for your members every. single. day. They will come to rely on and trust you even more because of your daily commitment to deliver relevant and helpful content.
Two ways to offer your daily dose of content
How can you break down your content to provide daily value?
Remember Sarah Sladek's definition of value? It's anything that makes a member's job easier or their life better. Does your content make your member's job easier or their life better? You want the people consuming your content to say a resounding "Yes!" to that question.
In determining the value of your daily content, I've found it helpful to ask myself these questions:
Is the goal of your content to make members' lives better by inspiring, encouraging or motivating them? Then consider providing quotes from thought leaders in your industry, celebrities, authors and other personalities who inspire and motivate your audience.
Is the goal of your content to make your members' jobs easier? Then assess your current content to see how you can break it down into bite-sized pieces for easier, daily consumption. You can always link to the longer piece of content for further reading if your audience wants to dig deeper. And if you're not making your members' job easier or their lives better through your content, then start now.
For example, I publish daily tips related to how you can attract, convert and retain members/customers. I keep the tips super short and relevant for the audience I serve because association professionals' jobs are made easier when they get members to join and renew. Here's a sample: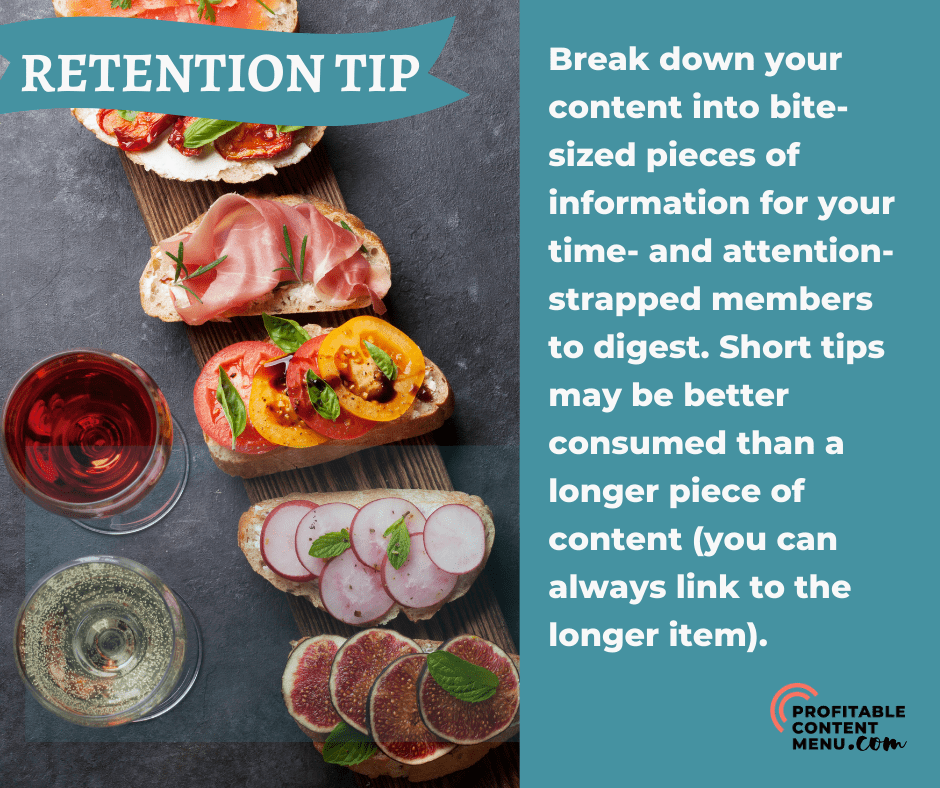 I've found the Retention and Join Tips – as I like to call them – to be a helpful way to offer fresh and regular content and stay top of mind with the communities I serve. The content is also strategic because it showcases the different types of services I provide without selling (that's the beauty of content marketing, right?). You can access the tips by following me on Facebook, LinkedIn or Twitter or you can join my email list here, and I send them weekly to my subscribers.
In each of the tips, I make sure to provide my website address in case people want to learn more or connect with me. The goal of publishing the daily tips is to provide value first. As a result of providing daily value, it also positions the Profitable Content Menu as a go-to source for creating content if you're trying to attract, convert and retain members and customers for your organization. See how that works?! Even if someone doesn't contact me for further business, I have the satisfaction of knowing that I deliver value to membership organizations through my content. It can work the same way for your organization.
How should you distribute your daily content?
Thankfully, we live in age where there are so many communication channels at our fingertips. Some of the most popular methods that work well are:
Social media
Email
Text-based messages
Online communities
Videos/vlogs
Other communication vehicles that are popular with your audience
I've even seen podcast content creators organize their podcast content for daily distribution with a nugget of wisdom or a helpful tip. This is a great option as audio content is only growing in popularity and works especially well for audio learners and those who prefer to listen rather than read (think commute time here).
If you provide value day after day, week after week, and month after month, your audience will see the year-round value you provide. For membership organizations, providing value 365 days a year will make the annual question, "Should I renew?" that much more of a no-brainer.
Before you reach for your laptop to create another piece of content, stop and do these two things:
First, take a moment to figure out the type of value you want your content to deliver:
Do you want to inspire, motivate or encourage your membership?
Do you want to make their jobs easier?
Do you want to make their lives better?
Knowing the type of value you want to deliver first will make the second step much easier.
Next, assess your current content offerings to see how you can break them down into bite-sized pieces. By following these two steps, you will be closer to creating daily member value. And if you find that you don't have content that matches the member value goals listed above, then start generating new content. Not only will it keep you top of mind, it will set you apart, positioning your organization as a valuable investment – much like our WSJ subscription!